A brace from Alfredo Morelos gave Giovanni van Bronckhorst a debut victory as Rangers manager and sent his side into the Europa League knockout round at the expense of Sparta Prague.
Morelos swept home in the first half to give Rangers control early on, before capitalising on a bizarre mistake by Sparta's Filip Panak after the break.
The victory, along with Brondby's defeat by Lyon, means Rangers are guaranteed to finish in second place in Group A courtesy of a superior head-to-head record against Sparta.
span data-reactid=".1yn0qgysy1i.0.0.0.1.$list-4.$list-item-0.$undefined-link-1.0"">

>Reaction & as it happened

span data-reactid=".1yn0qgysy1i.0.0.0.1.$list-4.$list-item-1.$undefined-link-1.0"">

>Ibrox return 'special' - Van Bronckhorst
The Scottish champions will face one of eight teams dropping out of the Champions League over two legs in February for a place in the last 16 of the Europa League, with their final group game against section winners Lyon on 9 December now effectively meaningless.
Van Bronckhorst was making his first appearance as the new Rangers boss following Steven Gerrard's departure for Aston Villa and enjoyed watching his side earn a comfortable win.
They took advantage of shambolic defending by their visitors - who had beaten them 1-0 in the reverse fixture in the Czech Republic - as James Tavernier's straight ball into the channel was latched onto by Ianis Hagi, who stretched to cut back for Morelos to side-foot home.
Joe Aribo hit the bar then missed from close range, and four minutes into the second half, Rangers were gifted the crucial second goal they needed to overturn their head-to-head deficit.
Panak crossed directly for Morelos as Sparta attempted to play out from the back, and the Colombian gleefully headed in to become the fifth-highest scorer in Europa League history.
He was denied a hat-trick by Sparta goalkeeper Dominik Holec, who also denied Ryan Kent. Rangers earned victory despite a late flurry from Sparta when Allan McGregor pulled off a spectacular double save from Ladislav Krejci and Matěj Pulkrab.
Man of the match - Alfredo Morelos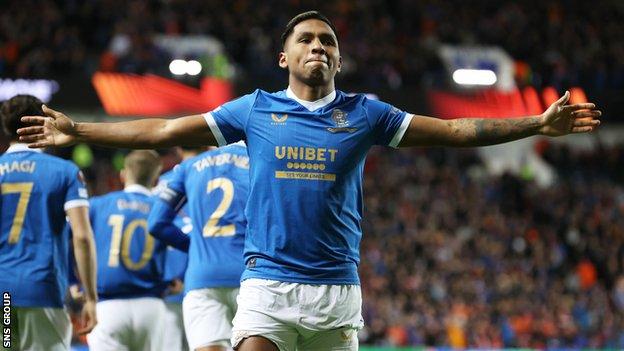 What did we learn?
With just a few days to work with the players since their 3-1 Scottish League Cup semi-final loss at the hands of Hibernian, Van Bronckhorst was never likely to introduce major changes.
However, he did tweak the shape to a 4-2-3-1, with Aribo playing as the central number 10 with Kent on the left and Hagi on the right. The latter pair stretched the play wide, while Aribo had three good chances to score after making good runs from his central position.
The attacking shape allowed Rangers to go more direct and, in doing so, they brutally exposed the gaping space left in the channels by the Sparta defence.
It was a generous offering from the visitors, who pinned Rangers back at times and stopped them playing through the middle. However, it was a great start for Van Bronckhorst, who was thrown into an important game on the back of a difficult result and got the required response quickly.
What they said
Rangers manager Giovanni van Bronckhorst on BT Sport: "From the first minute on, we were in the game. We were pressing them with a good rhythm of play and creating chances.
"We created enough chances in the first half to win the game. I was really proud of the guys, they did really well and kept pushing for the win."
What's next?
Rangers are away to Livingston for Van Bronckhorst's first Scottish Premiership game at the helm on Sunday (12:00 GMT).
Match stats
Rangers have won two of their last three in Europe (D1), after enjoying just one victory in their previous eight (D2 L5 incl. qualifiers).

Sparta Prague have lost three consecutive Europa League games (excl. qualifiers) for the first time since September 2016 (also three in total)

Rangers have scored five goals in their last three European games, one more than they managed in their previous eight (four incl. qualifiers).

Alfredo Morelos has scored 13 goals in European competition for Rangers (excluding qualifiers), the joint-most by any player in the club's history, level with Ralph Brand.
Line-ups
Rangers
Formation 4-2-3-1
1
McGregor
2
Tavernier
6
Goldson
3
Bassey
31
Barisic
10
Davis
18
Kamara
7
Hagi
17
Aribo
14
Kent
20
Morelos
1

span data-reactid=".1yn0qgysy1i.0.0.0.1.$include-25.0.0.1:$panel-0.$0.0.0.0.3.$0PO12390.1.0.0"">

>McGregor

2

span data-reactid=".1yn0qgysy1i.0.0.0.1.$include-25.0.0.1:$panel-0.$0.0.0.0.3.$1PO77816.1.0.0"">

>Tavernier

6

span data-reactid=".1yn0qgysy1i.0.0.0.1.$include-25.0.0.1:$panel-0.$0.0.0.0.3.$2PO85128.1.0.0"">

>Goldson

3

span data-reactid=".1yn0qgysy1i.0.0.0.1.$include-25.0.0.1:$panel-0.$0.0.0.0.3.$3PO232892.1.0.0"">

>Bassey

31

span data-reactid=".1yn0qgysy1i.0.0.0.1.$include-25.0.0.1:$panel-0.$0.0.0.0.3.$4PO166611.1.0.0"">

>Barisic

Booked at 57mins

10

span data-reactid=".1yn0qgysy1i.0.0.0.1.$include-25.0.0.1:$panel-0.$0.0.0.0.3.$5PO17339.1.0.0"">

>Davis

Substituted for

span data-reactid=".1yn0qgysy1i.0.0.0.1.$include-25.0.0.1:$panel-0.$0.0.0.0.3.$5PO17339.2.$0.2.0"">

>Lundstram

at

89'

minutes

18

span data-reactid=".1yn0qgysy1i.0.0.0.1.$include-25.0.0.1:$panel-0.$0.0.0.0.3.$6PO153134.1.0.0"">

>Kamara

7

span data-reactid=".1yn0qgysy1i.0.0.0.1.$include-25.0.0.1:$panel-0.$0.0.0.0.3.$7PO194605.1.0.0"">

>Hagi

Booked at 45mins

Substituted for

span data-reactid=".1yn0qgysy1i.0.0.0.1.$include-25.0.0.1:$panel-0.$0.0.0.0.3.$7PO194605.2.$0.2.0"">

>Patterson

at

66'

minutes

17

span data-reactid=".1yn0qgysy1i.0.0.0.1.$include-25.0.0.1:$panel-0.$0.0.0.0.3.$8PO193204.1.0.0"">

>Aribo

Substituted for

span data-reactid=".1yn0qgysy1i.0.0.0.1.$include-25.0.0.1:$panel-0.$0.0.0.0.3.$8PO193204.2.$0.2.0"">

>Arfield

at

81'

minutes

14

span data-reactid=".1yn0qgysy1i.0.0.0.1.$include-25.0.0.1:$panel-0.$0.0.0.0.3.$9PO141291.1.0.0"">

>Kent

Substituted for

span data-reactid=".1yn0qgysy1i.0.0.0.1.$include-25.0.0.1:$panel-0.$0.0.0.0.3.$9PO141291.2.$0.2.0"">

>Sakala

at

81'

minutes

20

span data-reactid=".1yn0qgysy1i.0.0.0.1.$include-25.0.0.1:$panel-0.$0.0.0.0.3.$10PO160615.1.0.0"">

>Morelos
Substitutes
4

span data-reactid=".1yn0qgysy1i.0.0.0.1.$include-25.0.0.1:$panel-0.$0.0.0.0.5.$0PO153723.1.0.0"">

>Lundstram

8

span data-reactid=".1yn0qgysy1i.0.0.0.1.$include-25.0.0.1:$panel-0.$0.0.0.0.5.$1PO50018.1.0.0"">

>Jack

16

span data-reactid=".1yn0qgysy1i.0.0.0.1.$include-25.0.0.1:$panel-0.$0.0.0.0.5.$2PO243571.1.0.0"">

>Patterson

22

span data-reactid=".1yn0qgysy1i.0.0.0.1.$include-25.0.0.1:$panel-0.$0.0.0.0.5.$3PO204380.1.0.0"">

>Bacuna

23

span data-reactid=".1yn0qgysy1i.0.0.0.1.$include-25.0.0.1:$panel-0.$0.0.0.0.5.$4PO185506.1.0.0"">

>Wright

27

span data-reactid=".1yn0qgysy1i.0.0.0.1.$include-25.0.0.1:$panel-0.$0.0.0.0.5.$5PO230073.1.0.0"">

>Kelly

28

span data-reactid=".1yn0qgysy1i.0.0.0.1.$include-25.0.0.1:$panel-0.$0.0.0.0.5.$6PO175919.1.0.0"">

>McCrorie

30

span data-reactid=".1yn0qgysy1i.0.0.0.1.$include-25.0.0.1:$panel-0.$0.0.0.0.5.$7PO422685.1.0.0"">

>Sakala

33

span data-reactid=".1yn0qgysy1i.0.0.0.1.$include-25.0.0.1:$panel-0.$0.0.0.0.5.$8PO53314.1.0.0"">

>McLaughlin

37

span data-reactid=".1yn0qgysy1i.0.0.0.1.$include-25.0.0.1:$panel-0.$0.0.0.0.5.$9PO39158.1.0.0"">

>Arfield

43

span data-reactid=".1yn0qgysy1i.0.0.0.1.$include-25.0.0.1:$panel-0.$0.0.0.0.5.$10PO503532.1.0.0"">

>King
Sparta Prague
Formation 4-2-3-1
77
Holec
28
Wiesner
27
Panák
37
Krejci
33
Hancko
8
Pavelka
16
Sacek
22
Haraslín
20
Hlozek
9
Krejci
11
Minchev
77

span data-reactid=".1yn0qgysy1i.0.0.0.1.$include-25.0.0.1:$panel-0.$0.0.0.1.3.$0PO210928.1.0.0"">

>Holec

28

span data-reactid=".1yn0qgysy1i.0.0.0.1.$include-25.0.0.1:$panel-0.$0.0.0.1.3.$1PO444640.1.0.0"">

>Wiesner

27

span data-reactid=".1yn0qgysy1i.0.0.0.1.$include-25.0.0.1:$panel-0.$0.0.0.1.3.$2PO240569.1.0.0"">

>Panák

37

span data-reactid=".1yn0qgysy1i.0.0.0.1.$include-25.0.0.1:$panel-0.$0.0.0.1.3.$3PO431248.1.0.0"">

>Krejci

Booked at 45mins

33

span data-reactid=".1yn0qgysy1i.0.0.0.1.$include-25.0.0.1:$panel-0.$0.0.0.1.3.$4PO235093.1.0.0"">

>Hancko

8

span data-reactid=".1yn0qgysy1i.0.0.0.1.$include-25.0.0.1:$panel-0.$0.0.0.1.3.$5PO102641.1.0.0"">

>Pavelka

16

span data-reactid=".1yn0qgysy1i.0.0.0.1.$include-25.0.0.1:$panel-0.$0.0.0.1.3.$6PO225616.1.0.0"">

>Sacek

22

span data-reactid=".1yn0qgysy1i.0.0.0.1.$include-25.0.0.1:$panel-0.$0.0.0.1.3.$7PO173131.1.0.0"">

>Haraslín

Substituted for

span data-reactid=".1yn0qgysy1i.0.0.0.1.$include-25.0.0.1:$panel-0.$0.0.0.1.3.$7PO173131.2.$0.2.0"">

>Moberg-Karlsson

at

59'

minutes

20

span data-reactid=".1yn0qgysy1i.0.0.0.1.$include-25.0.0.1:$panel-0.$0.0.0.1.3.$8PO467008.1.0.0"">

>Hlozek

Substituted for

span data-reactid=".1yn0qgysy1i.0.0.0.1.$include-25.0.0.1:$panel-0.$0.0.0.1.3.$8PO467008.2.$0.2.0"">

>Pulkrab

at

85'

minutes

9

span data-reactid=".1yn0qgysy1i.0.0.0.1.$include-25.0.0.1:$panel-0.$0.0.0.1.3.$9PO84625.1.0.0"">

>Krejci

Substituted for

span data-reactid=".1yn0qgysy1i.0.0.0.1.$include-25.0.0.1:$panel-0.$0.0.0.1.3.$9PO84625.2.$0.2.0"">

>Karabec

at

59'

minutes

11

span data-reactid=".1yn0qgysy1i.0.0.0.1.$include-25.0.0.1:$panel-0.$0.0.0.1.3.$10PO448007.1.0.0"">

>Minchev

Substituted for

span data-reactid=".1yn0qgysy1i.0.0.0.1.$include-25.0.0.1:$panel-0.$0.0.0.1.3.$10PO448007.2.$0.2.0"">

>Dockal

at

58'

minutes
Substitutes
1

span data-reactid=".1yn0qgysy1i.0.0.0.1.$include-25.0.0.1:$panel-0.$0.0.0.1.5.$0PO101542.1.0.0"">

>Nita

4

span data-reactid=".1yn0qgysy1i.0.0.0.1.$include-25.0.0.1:$panel-0.$0.0.0.1.5.$1PO518322.1.0.0"">

>Gabriel

6

span data-reactid=".1yn0qgysy1i.0.0.0.1.$include-25.0.0.1:$panel-0.$0.0.0.1.5.$2PO487289.1.0.0"">

>Soucek

7

span data-reactid=".1yn0qgysy1i.0.0.0.1.$include-25.0.0.1:$panel-0.$0.0.0.1.5.$3PO106300.1.0.0"">

>Moberg-Karlsson

10

span data-reactid=".1yn0qgysy1i.0.0.0.1.$include-25.0.0.1:$panel-0.$0.0.0.1.5.$4PO69194.1.0.0"">

>Dockal

14

span data-reactid=".1yn0qgysy1i.0.0.0.1.$include-25.0.0.1:$panel-0.$0.0.0.1.5.$5PO439727.1.0.0"">

>Drchal

18

span data-reactid=".1yn0qgysy1i.0.0.0.1.$include-25.0.0.1:$panel-0.$0.0.0.1.5.$6PO181927.1.0.0"">

>Pulkrab

29

span data-reactid=".1yn0qgysy1i.0.0.0.1.$include-25.0.0.1:$panel-0.$0.0.0.1.5.$7PO84620.1.0.0"">

>Heca

32

span data-reactid=".1yn0qgysy1i.0.0.0.1.$include-25.0.0.1:$panel-0.$0.0.0.1.5.$8PO170010.1.0.0"">

>Vindheim

36

span data-reactid=".1yn0qgysy1i.0.0.0.1.$include-25.0.0.1:$panel-0.$0.0.0.1.5.$9PO485064.1.0.0"">

>Karabec

41

span data-reactid=".1yn0qgysy1i.0.0.0.1.$include-25.0.0.1:$panel-0.$0.0.0.1.5.$10PO485066.1.0.0"">

>Vitík
Referee:

Danny Makkelie

Attendance:

48,370
Match Stats
Home Team
Rangers
Away Team
Sparta Prague
Possession

Home

49%

Away

51%

Shots

Home

11

Away

10

Shots on Target

Home

5

Away

4

Corners

Home

3

Away

6

Fouls

Home

8

Away

11
Live Text
div data-reactid=".1yn0qgysy1i.0.0.0.1.$include-25.0.0.1:$panel-2.$2.0.0.1.1.1:$post-a=12358962137.0.3"">>

Match ends, Rangers 2, Sparta Prague 0.

div data-reactid=".1yn0qgysy1i.0.0.0.1.$include-25.0.0.1:$panel-2.$2.0.0.1.1.1:$post-a=12358962085.0.3"">>

Second Half ends, Rangers 2, Sparta Prague 0.

div data-reactid=".1yn0qgysy1i.0.0.0.1.$include-25.0.0.1:$panel-2.$2.0.0.1.1.1:$post-a=12358959841.0.3"">>

Substitution, Rangers. John Lundstram replaces Steven Davis.

div data-reactid=".1yn0qgysy1i.0.0.0.1.$include-25.0.0.1:$panel-2.$2.0.0.1.1.1:$post-a=12358959343.0.3"">>

Hand ball by Adam Karabec (Sparta Prague).

div data-reactid=".1yn0qgysy1i.0.0.0.1.$include-25.0.0.1:$panel-2.$2.0.0.1.1.1:$post-a=12358958207.0.3"">>

Corner, Sparta Prague. Conceded by James Tavernier.

div data-reactid=".1yn0qgysy1i.0.0.0.1.$include-25.0.0.1:$panel-2.$2.0.0.1.1.1:$post-a=12358958233.0.3"">>

Attempt missed. David Pavelka (Sparta Prague) header from the right side of the six yard box is close, but misses to the left following a corner.

div data-reactid=".1yn0qgysy1i.0.0.0.1.$include-25.0.0.1:$panel-2.$2.0.0.1.1.1:$post-a=12358958177.0.3"">>

Attempt saved. Matej Pulkrab (Sparta Prague) header from very close range is saved in the centre of the goal.

div data-reactid=".1yn0qgysy1i.0.0.0.1.$include-25.0.0.1:$panel-2.$2.0.0.1.1.1:$post-a=12358958157.0.3"">>

Attempt saved. Ladislav Krejci II (Sparta Prague) header from very close range is saved in the top centre of the goal. Assisted by Adam Karabec.

div data-reactid=".1yn0qgysy1i.0.0.0.1.$include-25.0.0.1:$panel-2.$2.0.0.1.1.1:$post-a=12358958005.0.3"">>

Corner, Sparta Prague. Conceded by Nathan Patterson.

div data-reactid=".1yn0qgysy1i.0.0.0.1.$include-25.0.0.1:$panel-2.$2.0.0.1.1.1:$post-a=12358957669.0.3"">>

Corner, Sparta Prague. Conceded by Steven Davis.

div data-reactid=".1yn0qgysy1i.0.0.0.1.$include-25.0.0.1:$panel-2.$2.0.0.1.1.1:$post-a=12358957183.0.3"">>

Substitution, Sparta Prague. Matej Pulkrab replaces Adam Hlozek.

div data-reactid=".1yn0qgysy1i.0.0.0.1.$include-25.0.0.1:$panel-2.$2.0.0.1.1.1:$post-a=12358956327.0.3"">>

Calvin Bassey (Rangers) wins a free kick on the left wing.

div data-reactid=".1yn0qgysy1i.0.0.0.1.$include-25.0.0.1:$panel-2.$2.0.0.1.1.1:$post-a=12358956373.0.3"">>

Foul by Adam Hlozek (Sparta Prague).

div data-reactid=".1yn0qgysy1i.0.0.0.1.$include-25.0.0.1:$panel-2.$2.0.0.1.1.1:$post-a=12358955499.0.3"">>

Glen Kamara (Rangers) wins a free kick on the left wing.

div data-reactid=".1yn0qgysy1i.0.0.0.1.$include-25.0.0.1:$panel-2.$2.0.0.1.1.1:$post-a=12358955523.0.3"">>

Foul by Tomás Wiesner (Sparta Prague).

div data-reactid=".1yn0qgysy1i.0.0.0.1.$include-25.0.0.1:$panel-2.$2.0.0.1.1.1:$post-a=12358955233.0.3"">>

Substitution, Rangers. Scott Arfield replaces Joe Aribo.

div data-reactid=".1yn0qgysy1i.0.0.0.1.$include-25.0.0.1:$panel-2.$2.0.0.1.1.1:$post-a=12358955079.0.3"">>

Substitution, Rangers. Fashion Sakala replaces Ryan Kent.

div data-reactid=".1yn0qgysy1i.0.0.0.1.$include-25.0.0.1:$panel-2.$2.0.0.1.1.1:$post-a=12358954677.0.3"">>

Offside, Sparta Prague. Tomás Wiesner tries a through ball, but Borek Dockal is caught offside.

div data-reactid=".1yn0qgysy1i.0.0.0.1.$include-25.0.0.1:$panel-2.$2.0.0.1.1.1:$post-a=12358953501.0.3"">>

Corner, Sparta Prague. Conceded by Borna Barisic.

div data-reactid=".1yn0qgysy1i.0.0.0.1.$include-25.0.0.1:$panel-2.$2.0.0.1.1.1:$post-a=12358952477.0.3"">>

Attempt missed. Adam Karabec (Sparta Prague) header from the left side of the six yard box is close, but misses to the left. Assisted by David Moberg-Karlsson with a cross.

Source : https://www.bbc.co.uk/sport/football/59308731?at_medium=RSS&at_campaign=KARANGA

7818